I hope you are keeping well in these dark days. I find that plunging in cold water, ramen noodle soup and stroking my cat Muriel lets the light in.
Anyhooo, in an attempt to brighten the next few minutes of your life, here is the latest Anointy newsletter, number #12 for those counting*…
(Excuse it being a long one, but a lot has happened of late. I shall look back at 2022 and think, WTF!)
---
REFLECTIONS AFTER EDINBURGH
Back in August, I took my one-man show Anoint My Head – How I Failed to Make it as Britpop Indie Rockstar (adapted from my book of the same name) to Edinburgh Fringe. It was a full run of 24 shows, and me and my inner Horace loved every second of it.
Incredibly, over a thousand people came through the door; people laughed, chuckled and smirked in the right places. No pints of piss were thrown, hardly anyone heckled, and the lovely people of Edinburgh took the story of the pointy birds to their hearts and their tunes to their lips.
I got some lovely reviews too. Here are some snippets…
"Carries the magnificent bravado of youth that will hold Generation X-ers and anyone nostalgically inclines in a state of happy reverie." Daily Telegraph ****
"A campfire tale of hope, dreams and failures with a lesson for us all – if it's fun, it's worth doing." Entertainment-Now
"Charmingly Ramshackle Catnip." David Hepburn The Scotsman
"Funny and touching tale of Britpop stardom that never was." Al Murray, the Pub Landlord**
Suffice it to say; I returned to London, a complete diva.
But now the less fun bit.
---
DAD
The sad backdrop to being in Edinburgh was that I knew I would be returning to say goodbye to my dad. His cancer had spread and the prognosis was not good. And so it proved as he passed away last week on 29th September.
His final weeks corresponded with the 12 day mourning period for the Queen. Similarly my mum had died during the Queens diamond jubilee earlier this year, as if the nation's outpouring of emotion and flag waving was meant for them. Or should have been.
The good thing was that my dad was ready to go. And we got to spend time saying goodbye and listening to stories from his life as he drifted in and out of sleep. His main request was to see his four Grandchildren.
He asked my two what they wanted to do. Elliot (16) said 'skydiving' and Sasha (14) said 'help people'. I smiled. Both things I would like to do myself if I was a bit less (a) scared of heights and (b) selfish.
His main message to them was that if an opportunity arises in life, then grab it. It's the going for it that counts – whether you succeed or fail is kind of secondary.
Too right I thought.
And remember to smile, he said.
I'll miss his smile that, when on full beam, charmed everyone he met. And the steady gaze of his pale blue eyes that used to bore into me as a child, especially when naughty, the same stare I now give my kids.
He was super smart and very stubborn, but he was also a big cuddly teddy bear of a man. We used to high-five awkwardly through some weird Scottish reserve when we said hello or goodbye, but now I wish I had just given him a hug.
He now joins my mum at the great gig in the sky. I hope they have front-row seats.
---
Ok, glad I have got that bit out of the way.
Back to the shameless self-promotion.
So what's next, I hear you ask?
This.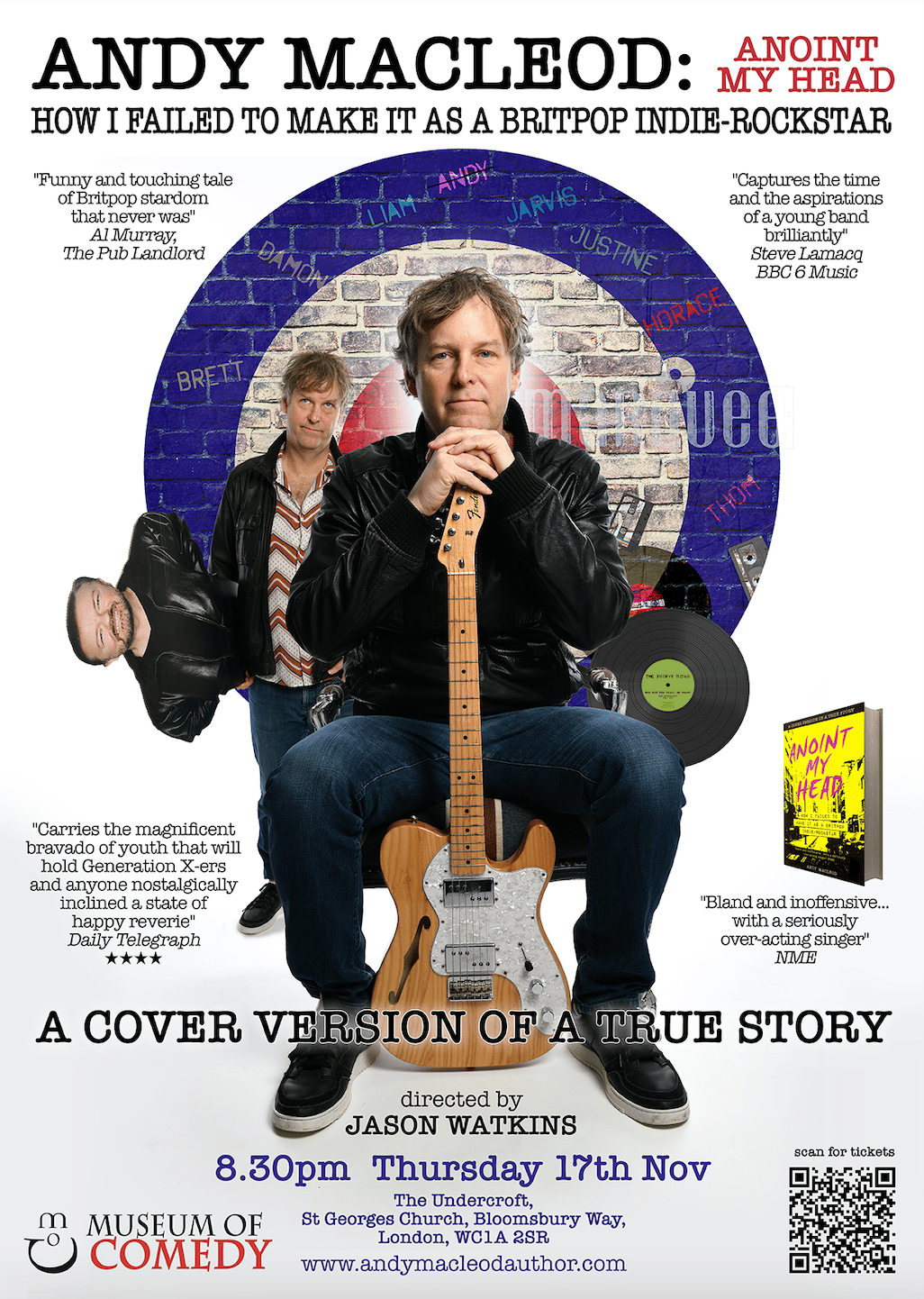 Yes, tickets have just gone on sale for this London show on Thursday 17th November at the Museum Of Comedy. The venue is in a repurposed crypt under St Georges Church in Bloomsbury. It's a lovely space with a fully stocked bar, so I would love you to come along if you are in the hood. Doors at 7:30 pm, and the show starts at 8:30 pm with a few live numbers thrown in. 'Gig theatre', they call it apparently.
More shows elsewhere to be confirmed very soon.***
---
MARRIED TO A SQUIRREL
There has been some crazy talk about shooting a video for the pointy birds classic 'Married to a Squirrel'; such was the positive reaction whenever I played that tune in Edinburgh. The song was never recorded, and given the Scotsman described it as a 'tender tale of inter-species love,' it's almost certain to go viral and become a Xmas number one. But I'm not sure if I want to be remembered as 'that squirrel guy'.
But never say never.
Here is live footage of me performing said tune at Edinburgh.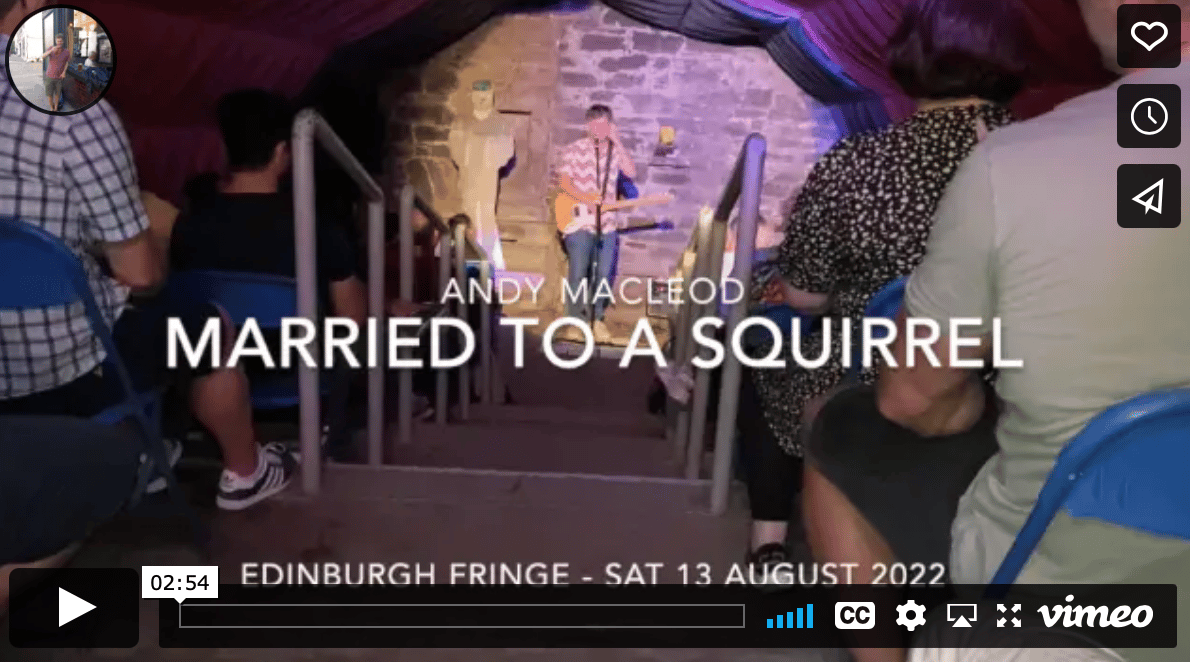 If this tickles your fancy, you can watch more Edinburgh footage right here​
Then buy a ticket for the London show!
---
COULD BE WRONG
Here's another date for your diary. Last year my brother and I polished up some of our old Big Slice demos and compiled them into a 12-song compilation for posterity's sake called Don't Mind if I Do. The album was released on all the digital platforms, and we thought that would be that. But then we remembered a batch of songs we never recorded and decided they might have been our best songs. So under the influence of Pavement and Orange Juice (the band, not the drink), nine new nuggets were recorded from scratch and turned out quite well. They now comprise a follow-up album, One For The Road.
The first song to see the light of day from O4TR is called 'Could Be Wrong', and you can listen to it (and other Big Slice numbers) on a platform of your choice right here. I think it sounds quite like the Libertines meets The Wannadies. Maybe. To celebrate the release of One For the Road, we shall be playing a one-off gig at the Betsy Trotwood on Friday, 2nd December, so put that date in your diary and come on down.
---
PANDAMONIUM! – HOW NOT TO RUN A RECORD LABEL
My good chum and music-promoting partner-in-crime Simon Williams of fierce panda records, NME and Club Fandango fame has written a book about life, death, music and everything in between. From not seeing ELO to discovering Coldplay, it is a brave, dark and very funny story told by a man who got too close to the edge but, happily for us, lived to tell the tale. I may be biased, but I reckon it's a bit of an indie masterpiece. Available from all good bookshop/digital platforms. Buy it for a music fan for bday/Xmas. They will love it.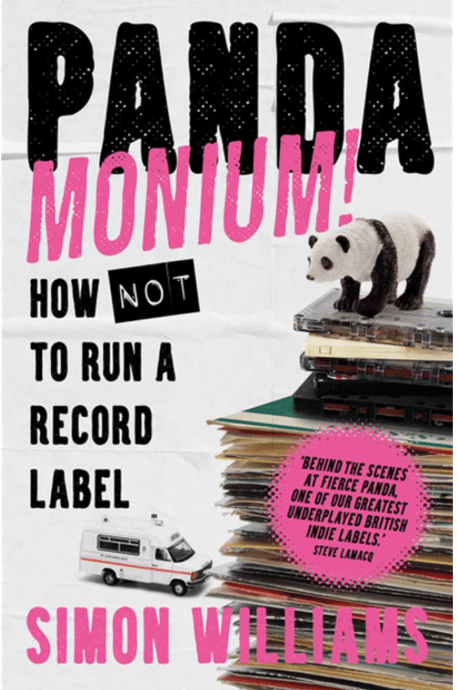 ---
THE CLIENTELE
So good to see the Clientele last week. They headlined a sold-out show at Omeara in London Bridge. I have worked with this band for around 25 years, and they are incapable of writing a bad song. Their music is too beautiful, sad and soulful and gets to the core of humanity. We just signed a new deal with US label Merge Records, and album number 8 is on its way next summer. It's a double too, so if you have not gotten into them yet, have a listen here. You are in for a treat.
---
15 MINUTES OF SHAME
Lastly, I enjoyed being a guest on the fab 15 Minutes of Shame podcast. In a salubrious toilet setting in the Edinburgh Caves, I chatted with host Pete about the show, the book and the band over G&T and opal fruits. You can watch that same interview right here and right now.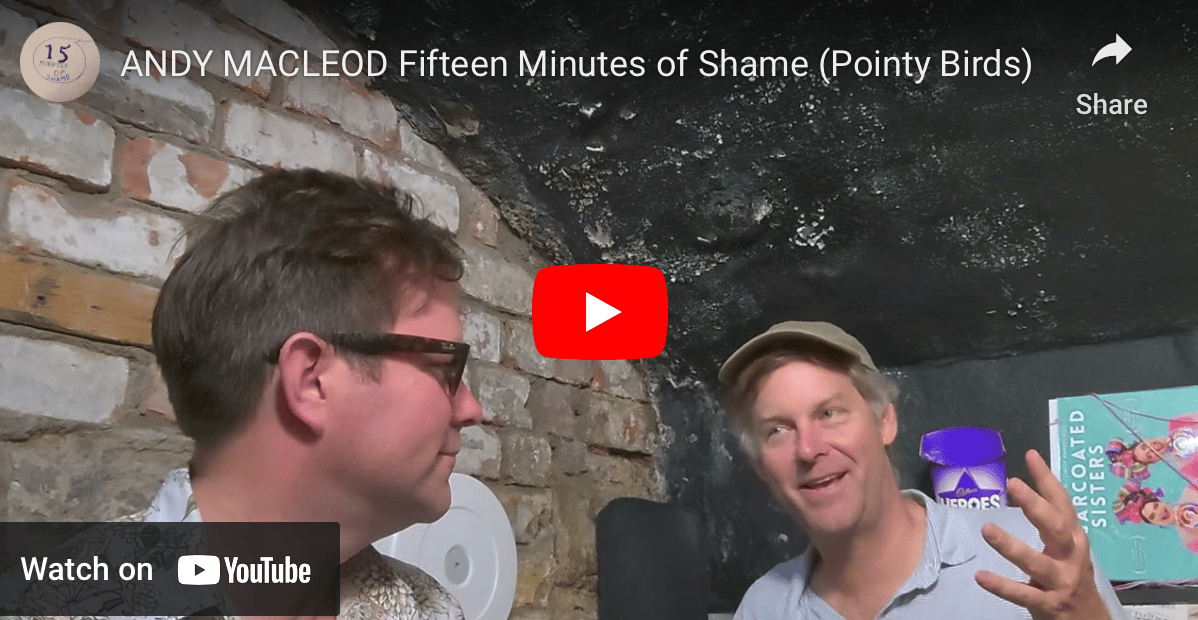 ---
Ok, that's enough of my yakking.
I'll end on a joke told to me by George, a fellow swimmer at my local lido.
"Bono and the drummer in his band came up to me in the pub the other day. And I said. 'Oh no, not you two again.' "
​
​
​
​
*sound of tumbleweed*
​
​
​
​
Until next time
Andy/Horace x
* You can read all previous Anointy newsletters here. Save for a very rainy day, maybe.
** Yes, it turns out Al Murray, the Pub Landlord, supported the Pointy Birds back in the day when he was in a band. Who knew! He came along to my show, and then I went to his. And now we chums. So that's nice.
*** Get in touch if you want me to bring the Anoint My Head live show to a town or city near you. I'm looking at you, New York, Paris, Tokyo, Sydney!
STOP PRESS! Just in, a photo of some pointy birds spotted at the Pineapple pub in Kentish Town last night. These rare creatures were considered extinct, so the sighting of five of them together in their natural habitat is as miraculous as that David Attenborough snow leopard footage. Fascinating how they still enchant with rock 'n' roll it factor, boyish good looks and sex appeal.