Greetings from Sydney, where this year I am spending Xmas with my family-in-law or, as they say here, 'Chrimbo with the rellys'.
It was a gruelling 24-hour flight via Qatar, and some unfortunate scheduling meant we took off just before the England v France World Cup quarter-final match.
I asked the air hostess while we were up in the air if there was any news of the result.
She said, "Ah yes, England won!"
At this, my football-obsessed 16-year-old son Elliot and I threw our arms in the air and hoorayed heartily.
And then she said, "France two."
Bugger.
Or should I say Zut Alors?
​
Anyway, nice to be here down-under. The water is somewhat warmer than the photos of the snowy lido in London, where temperatures have plummeted to 1 degree and the water has become syrupy as it thickens to ice.
So now, as the year draws to a close, it's time for a bit of reflection, some half-baked musings and the latest news about forthcoming stories, songs and live shows.
PLUS, a shameless plug to buy my book for Xmas It's the perfect gift and there is still time!
​
For me, 2022 was mad and sad.
Sad because both my parents passed away. Mum in May and Dad in September.
And now, my role in this world feels different.
A nice friend said when your parents die, it is as if they make room for you.
I have found that thought strangely comforting.
Like a tree growing towards the light.
Having the odd creative pursuit helps too. A nice distraction and a way to process it all.
​
2022 was also full of adventures.
A 4-day trek along the Inca trail to Machu Pichu in July was a particular high point. Quite literally at 4000 metres.
And then, in August, I spent a month in Edinburgh performing my one-man show, Anoint My Head – How I Failed to Make it as Britpop Indie Rockstar at the Fringe, adapted from the book wot I wrote. It was a huge learning curve and I loved every second of it.
In November, I performed the show at the Museum of Comedy in London. Much merriment and good-natured heckling was had all around. There are now plans to take it on the road next year, so watch this space for more details. In the meantime, you can watch footage right here, right now if you so desire.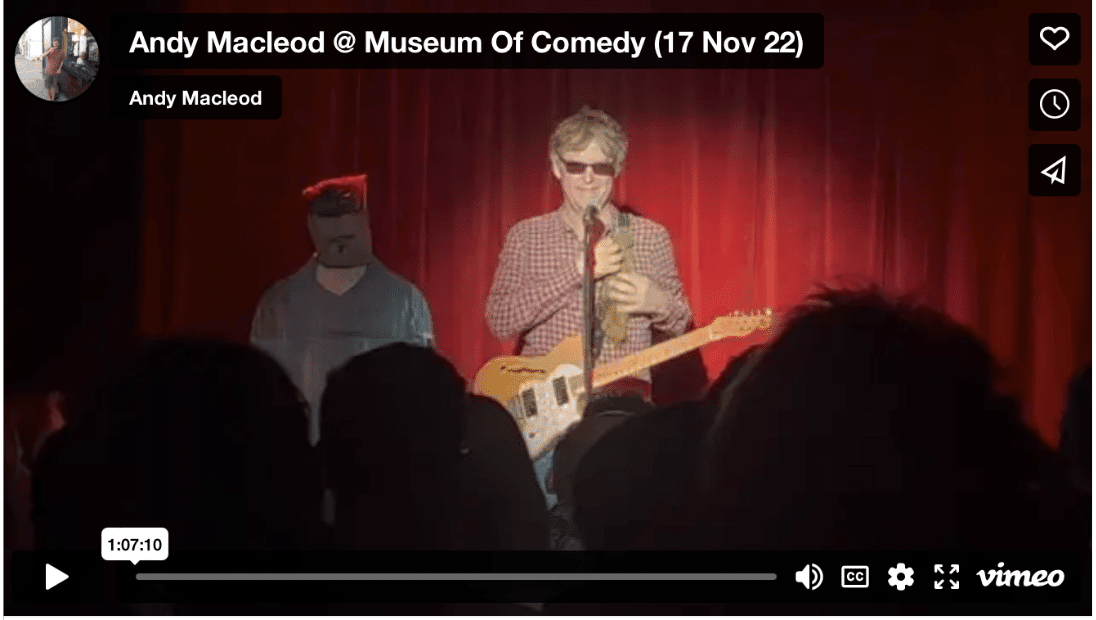 ​
Then in early December we got the band back together again. That band was Big Slice. Formed out of the pointy birds ashes in 1994, we toured the Camden toilet circuit for two years during the explosion of Britpop until our Moog player buggered off to find fame and fortune with his side project called the Lo Fidelity Allstars.
Fast forward 26 years, Big Slice reformed for one night only and played 11 songs (minus the Moog) at the Betsy Trotwood. It was so much fun we might do it again. You can watch the gig footage here if you so desire.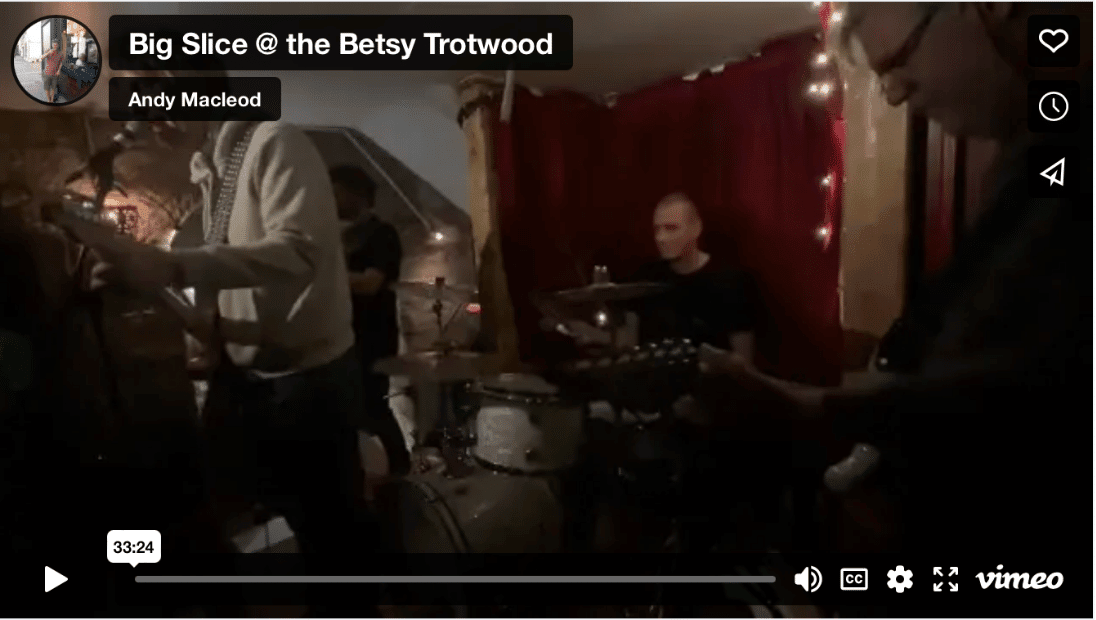 You can also listen to Big Slice on your streaming platform of choice right here. Incredibly, there are nearly 10,000 monthly listeners on Spotify. Not sure where they have come from.
​
---
So what's next, I hear you ask?
Well, if I had a pound for every time someone asked me that question, I'd have at least three pounds now.
Firstly, I am in the process of finishing my new book. It's a sequel to Anoint My Head, which I hope will be out next year. The working title is the Kings Of Camden and follows our protagonist's attempts to cross the rubicon from wannabe rock star to band manager in the shark-infested waters of the music industry. But I haven't quite sussed what it's really about yet. Hopefully that will be revealed to me soon. Like a fossil.
---
Secondly, I have stockpiled about 12 Made-Up-True-Short-Stories. I'm not sure exactly when they will be out and about, but two are available to read now. One is called A Night in Dieppe, and the other is called the Quilt. They take about 17 minutes to read, so they go perfectly with a cup of tea and a mince pie and hopefully they are mildly amusing in places and slightly tragic in others. Plus, they have the snazziest covers designed by Matt Law. Click on cover below to download PDF or ebook. They are free or pay-what-you-want.
​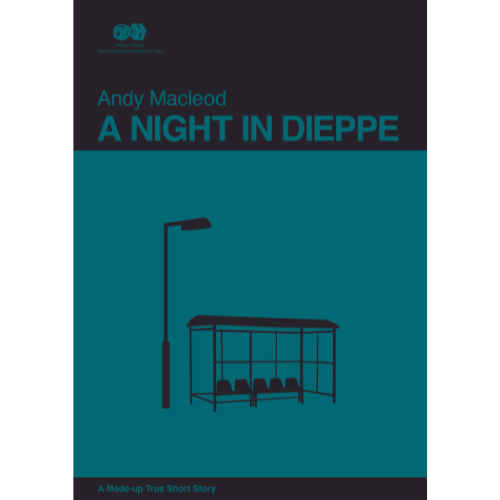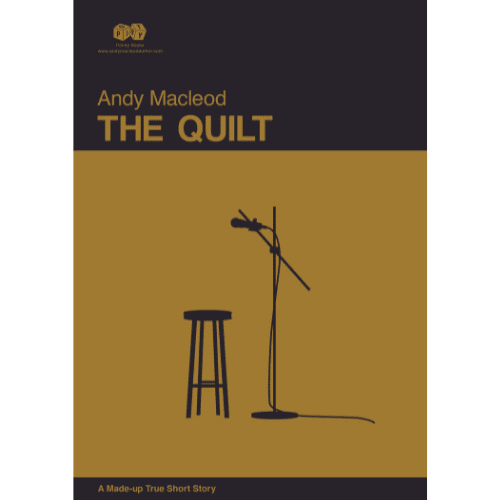 ---
And thirdly, exciting conversations are happening about Anoint My Head being adapted for the screen with people who know people who know people.
If I had a pound every time someone told me the book would make a great film or TV series, I would have at least four pounds now.
But yes, it's a no-brainer.
The Spinal Tap of Britpop meets High Fidelity is the elevator pitch.
Or if Adrian Mole had formed an indie band.
I'm not sure if/when/how this will become a reality but will keep hacking thru the jungle and see where these conversations lead. Or convo's as they say here.
---
And talking of Anoint My Head there is still time to order the book. It really is the perfect Xmas prezzy.
Especially if you know any 30/40/50/60-year-olds who were in a band that failed.
Or you know anyone that is in a band now. It's a kind of helpful guide for what not to do.
Or anyone who likes going to gigs.
Or for anyone who fancies a trip back to the early nineties.
Or is a fan of Britpop or Ricky Gervais. Or Squirrels.
It's a coming-of-age story about following your dreams and what happens when reality gets in the way.
I got you all covered.
Available as a paperback, hardback, ebook or audiobook.
Here she is…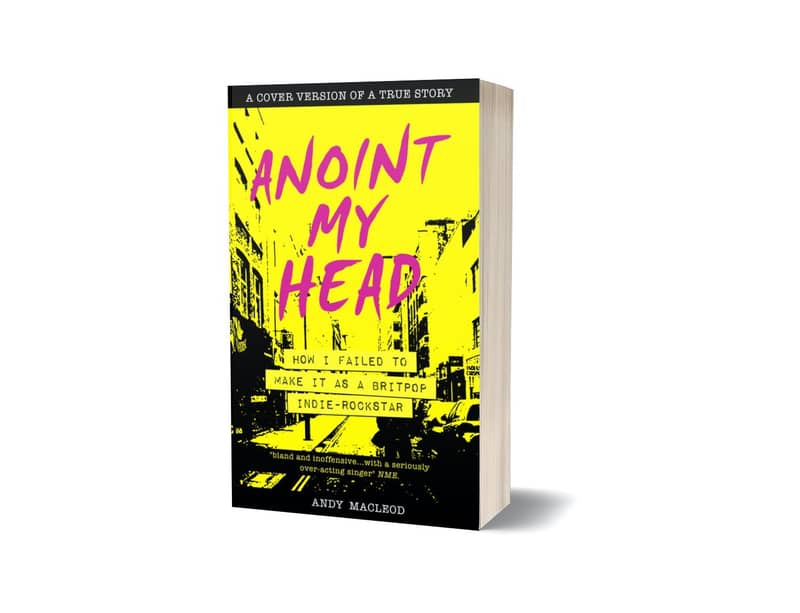 ​
'Captures the time and the aspirations of a young band brilliantly. A great eye-opener into the absurd thought process of what it might take to headline Glastonbury!' Steve Lamacq BBC 6 Music
"All the fun of youthful dreams and the poignancy of disappointment – plus a remarkable A-list cameo. Magnificent.' Phil Harrison Time Out / Guardian
'If This Is Spinal Tap is the quintessential rock mockumentary, Anoint My Head is the closest you'll get to that in book form.' Loz Etheridge God is in the TV *****
'Anoint My Head is a great read which rips along at pace and would make an excellent dramatisation or comedy series.' Iain Key Louder Than War *****
'Hilarious warts-and-all story of a Britpop band whose big ambitions did not meet their talents' Dan Carrier Camden New Journal
'This heartwarmingly tatty 'Withnail & I'-tinged must read for every soul pining for just one more chance to see another bunch of over-ambitious sonic terrorists preening themselves in an under- ventilated gigging sweatpit.' Simon Williams Fierce Panda Records
'Very good read. Some really good memories I had forgotten about. Great days. I hope it goes on to sell millions!' Saul Galpen Nude Records
'Super-evocative, proustian and a wonderful walk down memory lane'
​Mark Bowen Wichita Recordings
'A healthy measure of Nick Hornby with a dash of Adrian Mole had he joined an indie band. Just the tonic for these serious and uncertain days. Bottoms up!' Josh Levay Pointy Birds keyboardist/naysayer

​
---
​
Ok, that's about it for now.
Just to leave you on a happy thought…
Life is short.
And you got to try and enjoy every second.
I recently tried to work out how many seconds I had lived so far.
There are 86,400 seconds in a day.
That's roughly 31.5 million in a year.
So I multiplied that by my age.
And the answer was A LOT of seconds.
And then I wondered how many seconds I had left.
And then I thought about those seconds like grains of sand through an hourglass.
And then I thought how much sand do I have left?
And then I thought how many more sunsets will I see?
And how many full moons?
And how many more times will I see Spurs beat Arsenal?
(Cue Arsenal fans replying NEVER!)
So you got to try and make every second count.
Because Momento Mori
Remember that we all die.
Now you might be thinking that's not very Christmassy.
Or that this is the kind of mumbo-jumbo that usually precedes some unrealistic mid-life crisis. Like, I don't know, booking yourself a 24-show run at Edinburgh Fringe when you have never done stand-up before…..
But I say its very positive and profound.
Coz it makes you realise you got to enjoy yourself while you can.
So keep creating new memories.
Keep rediscovering yourself.
That is all.
Have a Bonza Xmas, you flamin' mongrels.
Andy (AKA Horace) x
P.S: Come on, Messi!
​