Hey there
Hope all is fine and dandy in your world. It's non-stop glorious sunshine here in London – been 30 degrees all week. We Londoners get quite silly in the heat. People drop tools, pubs spill onto pavements, clothes are discarded, and then after about 24 hours, we start complaining it's too hot.
Not me. Love it.
Anyway, here is Anointy Newsletter sweet 16 about forthcoming music and comedy happenings. It's longish, but hopefully, you will find something in it that is mildly diverting.
​
YORK RISE FESTIVAL / POINTY BIRDS RIP 30th ANNIVERSARY
This Sunday (10th Sep), I shall be picking up the plectrum and playing some old Pointy Birds hits at the ​York Rise Festival in Dartmouth Park, North London. I'm on at 3.15 pm on the Pavement Cabaret stage. Legendary Poet/comic John Hegley is on just before me, so I will be in exalted company. And the night finishes with a Madness covers band. What more do you need? It's free, so if you in the hood come along (apparently 5000 people turned up last year).
I am particularly looking forward to this because not only is it one of my favourite days of the year, but it doubles up as a chance to celebrate/commiserate 30 years since the Pointy Birds bid farewell to the Camden toilet circuit at the Dome in Tufnell Park on a wet and windy Monday evening in late August 1993.
In front of 8 people, we lowered each song to the ground and played our final respects, with Jeff-the-chef on bongos.
Sniff.
Musically, we were a slightly confused but very enthusiastic bunch. And we had fun. Here's a pic from back in the day channelling our inner Madness.
So it will be nice to resurrect some of the timeless classics like 'Married to a Squirrel', 'Benefit Office' and I might even try 'Baby Can't You See', which vocally would mean trying to scale the dizzy highs and lows of the two Barry's (Gibb and White) but not sure if my voice is up to it. But one can try.
I shall also be trying to figure out where we went wrong coz it still baffles me. (Clue's in the name?).
And I may tell a couple of jokes (courtesy of George at the Lido)
There will be a surprise guest too. We rehearsed yesterday and I think it works. We shall be attempting something neither of us have ever done before. (Clue: page 62 of Anoint My Head)
Here is the surprise guest…
Can you guess who it is yet?
He sometimes has a goatee beard, used to work in an office and is a well-known member of the local community.
So, if you are in the Dartmouth Park area of London and want to see me and Local Councillor Boyland*…oops…I mean… if you fancy going back to the future with me (plus a surprise guest) and witness history repeat itself as tragi-farce, then come along and heckle.
And if you are not in London, then you can count your blessings!
​
NUMBER ONE IN THE US / EAT MY SHORTS DAMON!
Going from the ridiculous to the sublime. I recently returned from a US road trip where the Clientele (a band wot I manage) were on tour to promote their fab new double album entitled I am not There Anymore, which is deservedly earning rave reviews everywhere. And in exciting news, the album is currently number one in the US College radio charts and has stayed there two weeks running!
​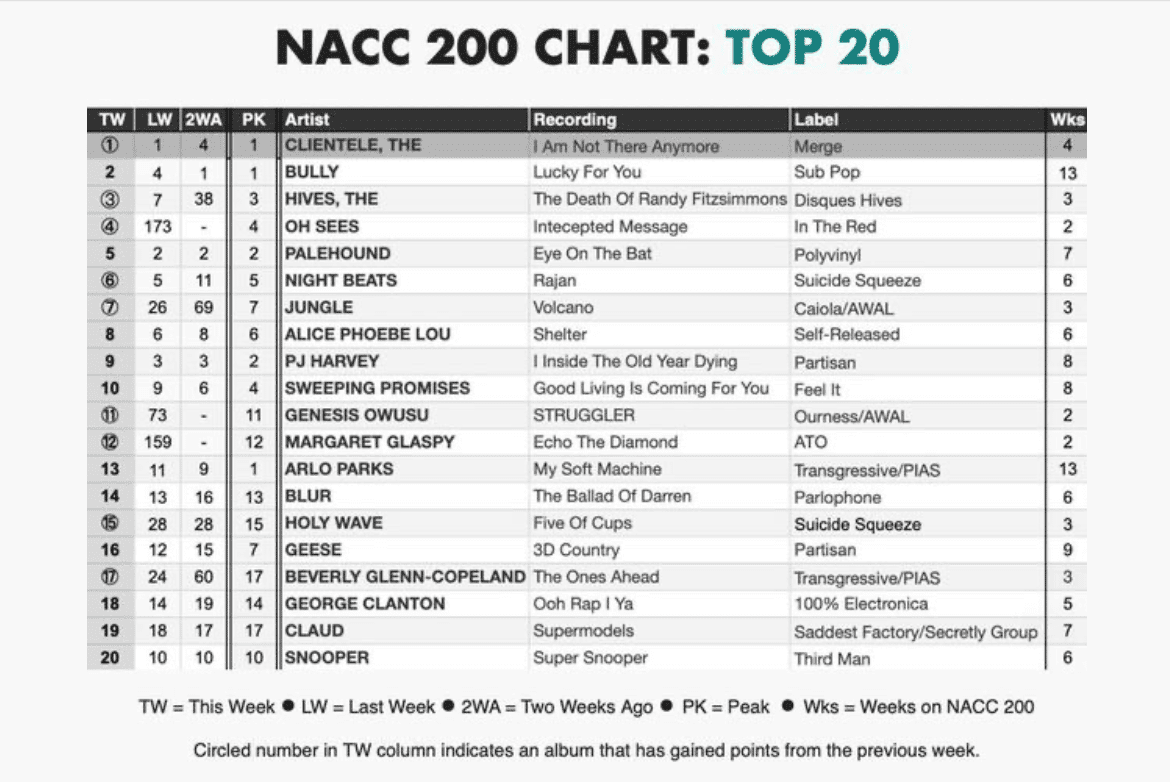 I have worked with the Clientele for over 25 years since I received a cassette demo in 1997 from a Hampshire band looking for a gig. I pressed play, and within seconds of hearing their first song, 'Reflections After Jane,' I was smitten, and by the end of the second track, 'We Could Walk Together,' I was on the phone offering them a slot. By the end of their live set at the Dublin Castle, I was in too deep.
It's really nice to feel the love now and also particularly pleasing to be 13 places above Blur. Those who have read my ​book Anoint My Head​ will know I've had some previous with Damon Albarn. He once came to a Pointy Birds gig (admittedly, he was there to see the headliners Echobelly), but on my way to the toilet for pre-gig ablutions, I knocked shoulders with him. I was dressed in my sparkly shirt/highland cardigan combo, and he muttered something sarcastic about my attire under his breath. He was dressed as a mod and they were about to release their Modern Life is Rubbish album, and I thought that look will never catch on.
So yes, it's taken a while, but it's nice to be looking down at them at last.
Anyway, the Clientele are touring the UK / Paris this autumn so go and see them. ​Tickets here​. More shows to be confirmed in Europe, and hopefully, back in the US soon.
​
HERE'S TO YOU BRUCE ROBINSON (& TOBY) – FAB NEW WITHNAIL BOOK
I met one of my heroes last night – Bruce Robinson, the man who lived, wrote and directed Withnail and I. I was at the launch for a fab new book all about the making of the film written by my friend Toby Benjamin which for any Withnail fan is a must read. During the '90s, I lived on Delancey Street in Camden, just around the corner from the legendary flat, so in my head I always felt I was living a '90s version of the film, especially as I was striving and failing to make it. And without a doubt, it's the film, more than any other, that influenced Anoint My Head. Anyway, I gave him a copy of my book and he was very sweet and said he would take a look. Even if he doesn't, I can die happy. For me, he, along with PG Wodehouse, is the funniest writer ever. It really needs to become a stage play now.
You can buy Toby's brilliant book which contains exhaustive interviews with my new bestie Bruce and all the cast & crew right here…
​
​
ROGUES GALLERY
Lastly, as it's 30 years since the Pointy Birds RIP, I thought I'd pointy you to a gallery of band photos from back in the day and moments that are documented in Anoint My Head. I am often asked if what I wrote was made up or true. And I like to say it was all true apart from the bits I made up.
Pics include the time our Ninja Landlord stole our audience and took them outside into the pub garden to break flaming bricks with his head.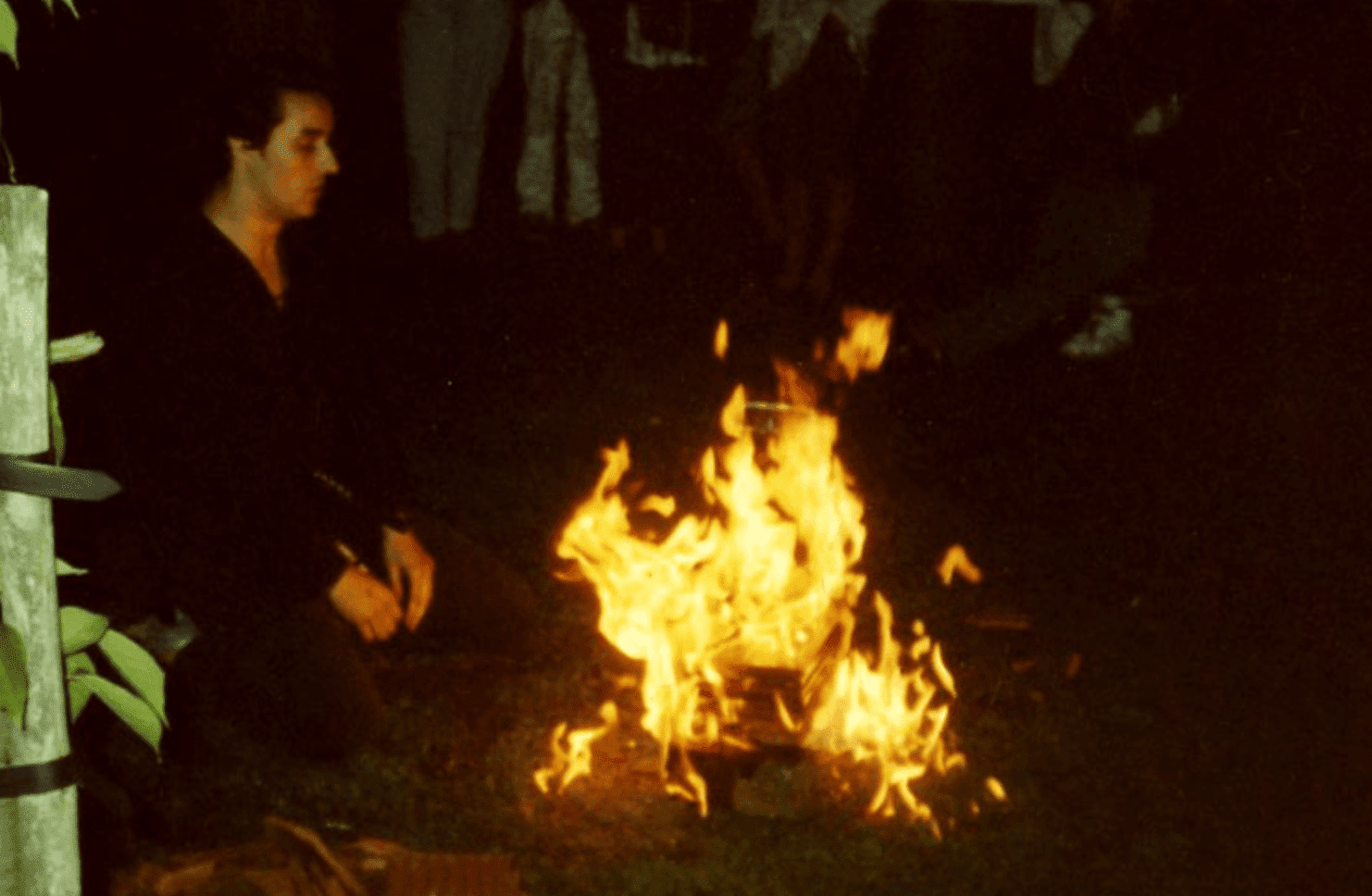 And the tragic moment bass player Marcus cut off his pony tail following our penultimate gig supporting a bouncy castle (our Spinal Tap puppet show moment).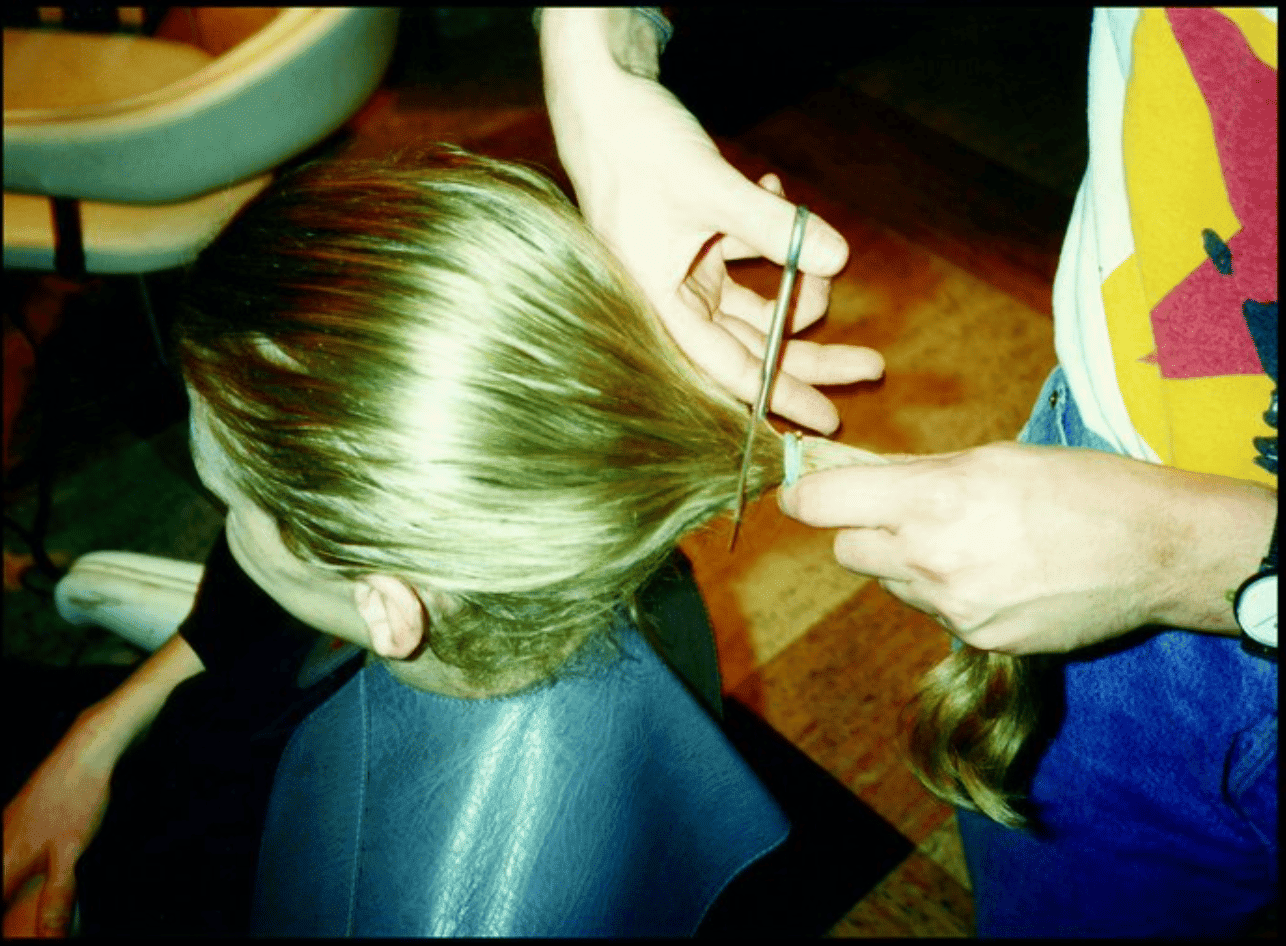 See, all true.
Anyway, you can view these pics and more on a pointy birds page on my website ​right here​. You can also listen to some of the old recordings of the Pointy Nerds (that's a typo, but will keep it). Incredibly, the Spotify listeners are currently up to six, so taking away the five band members would be great to know who the other person is. It's probably our old manager, Ricky.
​
I think I'll leave it there for now. I won't bang on about my nearly finished new book this time. Suffice it to say, I know what it is now, and if it was a 400-meter race, I'm just starting that curving bit before the final straight. Looking forward to crossing the finishing line. Beta readers will get a taster v soon.
In the meantime, you can read, watch or listen to my creative follies on my website ​right here​ if you so desire.
Phew! it's hot. That's more than enough yakkin / self-promotion for one day.
I'm off to the Lido.
Andy x
PS please forward this newsletter to anyone you think might enjoy my yakkin'.
*AKA Marcus Fingers – ex-Pointy Birds bass player / future Prime Minister.
PPS – some things I've recently enjoyed that you might too:
'Angeball' – Us Spurs fans have got our Tottenham back and we are all Tottenham fans now thanks to our new Ozzie manager. I am developing a man-love for Maddison, and Udoggie is the new Saka / Bale – watch this space. Although knowing Spurs, our fab new manager will probably be out by Xmas!
Triangle of Sadness – the scene with Woody Harlesden on the mic made me sick with laughter.
Tar – Nearly three hours long and didn't want it to end.
The Bear – I'm two episodes in, and hooked.
Young Fathers. What a band. What an album. Go listen. Go see.
And of course…
​
"These songs offer an uncommonly generous wealth of grace and beauty." 9/10 – Uncut
"A both radical and reliable triumph from Britain's most underrated." 5/5 – Record Collector
"The Clientele deserve to be up there with the greats – and the band's new album could be their best yet." – CLASH
"'No other band delivers beautiful existential musings like this one'" – Wall Street Journal
'Marked by a newfound sonic adventureness and evocative dream-logic lyrics, the long-running UK band's new double album is a bold quest into the unknown' Pitchfork 8.0
​Listen Clientele album / gig tickets​
And of course…