Hope you all keeping as fine and dandy as possible in these troubled times. In an attempt to bring a little light to the dark here is some news about my book wot I wrote, about the band wot I was in, back in the nineties…
​
CAMDEN NEW JOURNAL LOVE
The Pointy Birds struggled to get any press back in the day (apart from that one NMEreview, but the less said about that the better**). So it was a particular thrill for not only the book to receive a lovely double page spread as below in this week's Camden New Journal (courtesy of Dan Carrier, a man of exquisite taste), but for The Pointy Birds to feature on the front cover too. It's only taken 30 years but at last the Pointy Birds have made it…
​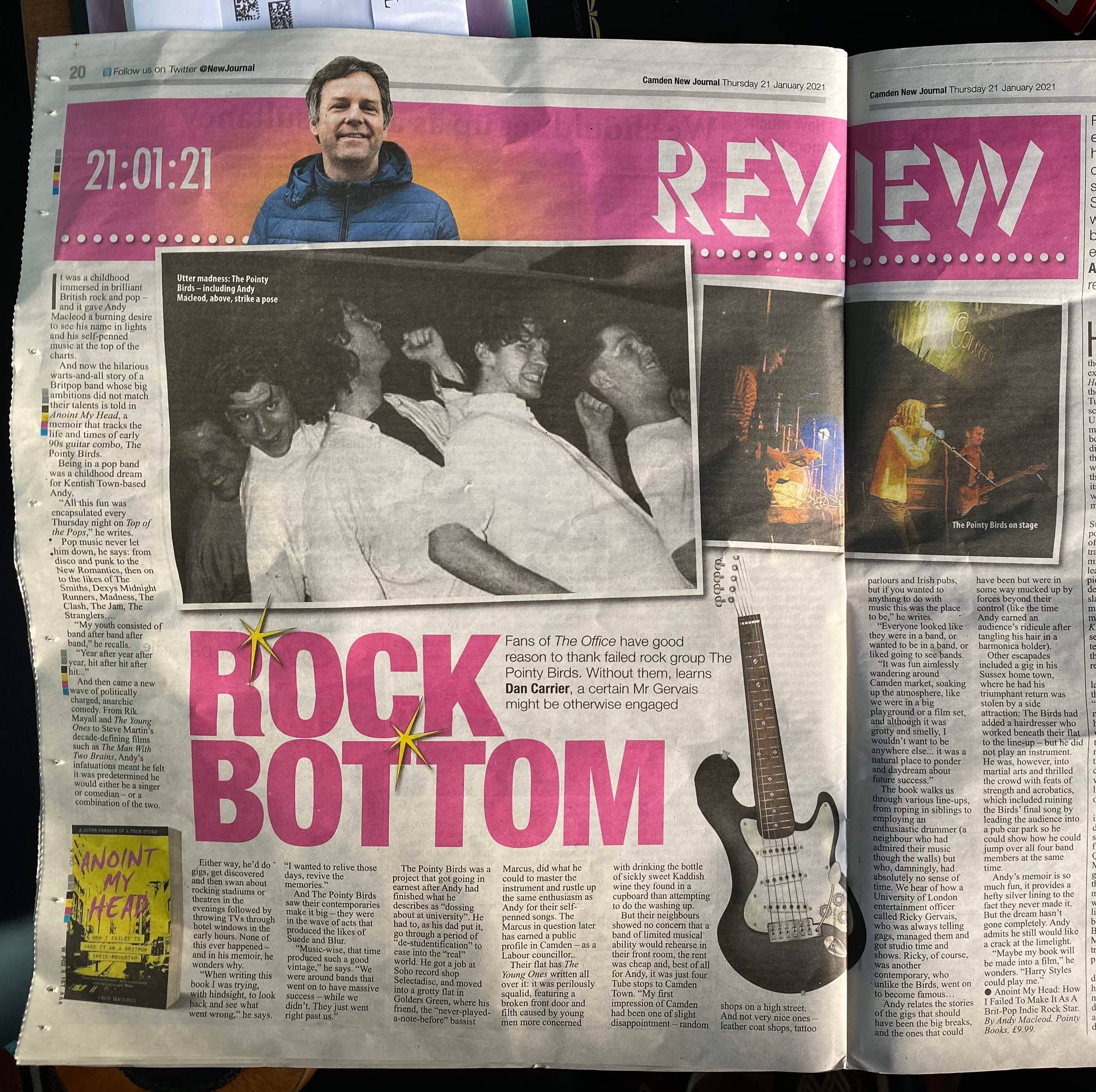 ​
In no way has this gone to my head.
​
I'm NOT now spending an unhealthy amount of lockdown pondering what to wear for our headline Glastonbury set next year. And I'm also definitely not pondering who is going to play me in the film of the book. But the obvious choice would be Harry Styles. Right age, plus he done a bit of acting. And it just so happens he lives in Kentish Town. It also turns out that Dan knows someone who knows someone who can get the book to him. I once sat on a table next to Harry in Arancini Brothers on Kentish Town Road, a cafe where I used to eat my weight in their delicious breakfast wraps with mushrooms, spinach, risotto balls, chimichurry, special Mayo, crispy onions and soft boiled egg. He had ordered the same but kept getting bothered by people asking for a photo. Eventually he snapped at one woman explaining that he was trying to eat his lunch. Knowing how delicious these wraps were, I could feel his pain. The price of fame I suppose. I scoffed mine with no interruptions.
​
Anyway talk about stars aligning. I'll let you know in next month's instalment whether he's interested. We have also been having fun casting the rest of the band and various members of Selectadisc. Jude Law, Kelsey Grammer, Steve Guttenberg are some of the names in the hat. I'm not sure who will play Ricky though. Talking of Ricky…I'm hoping he is going to tweet about the book but he is still not returning my calls, emails, DM's, tweets or hand-written letters. He's probably busy. Likewise be great if Blur, Suede, Pulp and Radiohead can push the book to their adoring fanbases, but they are all being a bit tricky to get hold of. Happy to play the waiting game.
​
ROCK 'N' ROLL COUNCILLOR
In other exciting news The Pointy Birds also made the gossip columns of the CNJ as the paper revealed the rock 'n' roll / frilly shirt past of their local councillor. It's true, one member of the Pointy Birds (mentioning no names) has since entered public life representing his local community. Some people are tipping him for the top. This has stoked interest in the book from a whole new demographic. Indeed, I was told that one customer bought a book from Bold Cafe in Dartmouth Park (purveyors of THE best chicken wraps EVER – BBQ chicken, humous, cucumber, chili, molasses in bread fresh out of the oven, plus some secret ingredient) and this customer wanted to know if Anoint My Head was the book about the local councillor. This angle needs to be exploited whether our bass player Marcus, …er I mean a certain band member likes it or not….the band is bigger than any individual.
​
ANOINT MY HEAD SPOTIFY PLAYLIST
There is now a Spotify playlist of all the songs that feature in Anoint My Head. It totals 106 tracks and clocks in at a whopping 7 hours 18 minutes which is probably the amount of time you need to read the book*. In this way the playlist doubles up as a kind of scratch and sniff immersive experience. The playlist stays mainly in the early nineties but all sorts of things pop up here and there. To give you an idea of the musical girth – Russ Abbot's 'Atmosphere' sits at one end of the musical spectrum with death metal hardcore noiseniks Benediction at the other, with all sorts of indie-classics inbetween. In addition to the usual Britpop suspects you will find The Sugarcubes, Talk Talk, Galaxie 500, House Of Love, The Lemonheads, Pavement, Tindersticks, Afghan Whigs and of course…The Blow Monkeys. So something for everyone. Enjoy…(there will be an Apple Music one soon too)
​
​
ANOINT MY HEAD AUDIO BOOK
Lastly the audio book is recorded and clocks in at around 7 hours 18 minutes* so you can def read the book and listen to the playlist if you want. Or you can cut out the middle man and listen to the audio book. I listened to Adam Buxton's Ramble Book and Viv Albertine's Clothes Clothes Clothes Music Music Music Boys Boys Boys to get an idea of how to do it and then with the help of Nainesh Shah / Snorkel Studios had fun reading/recording the book. I think it's sounding good. It will be available on Audible and other platforms soon. It's also going to be serialized on Radio Fandango which is something to tell you about next month.
​
That's it for now. If you would like to order a copy of the book or download part one for free to try on for size then click on green button of choice below. Lots of lovely reviews coming in too as per below…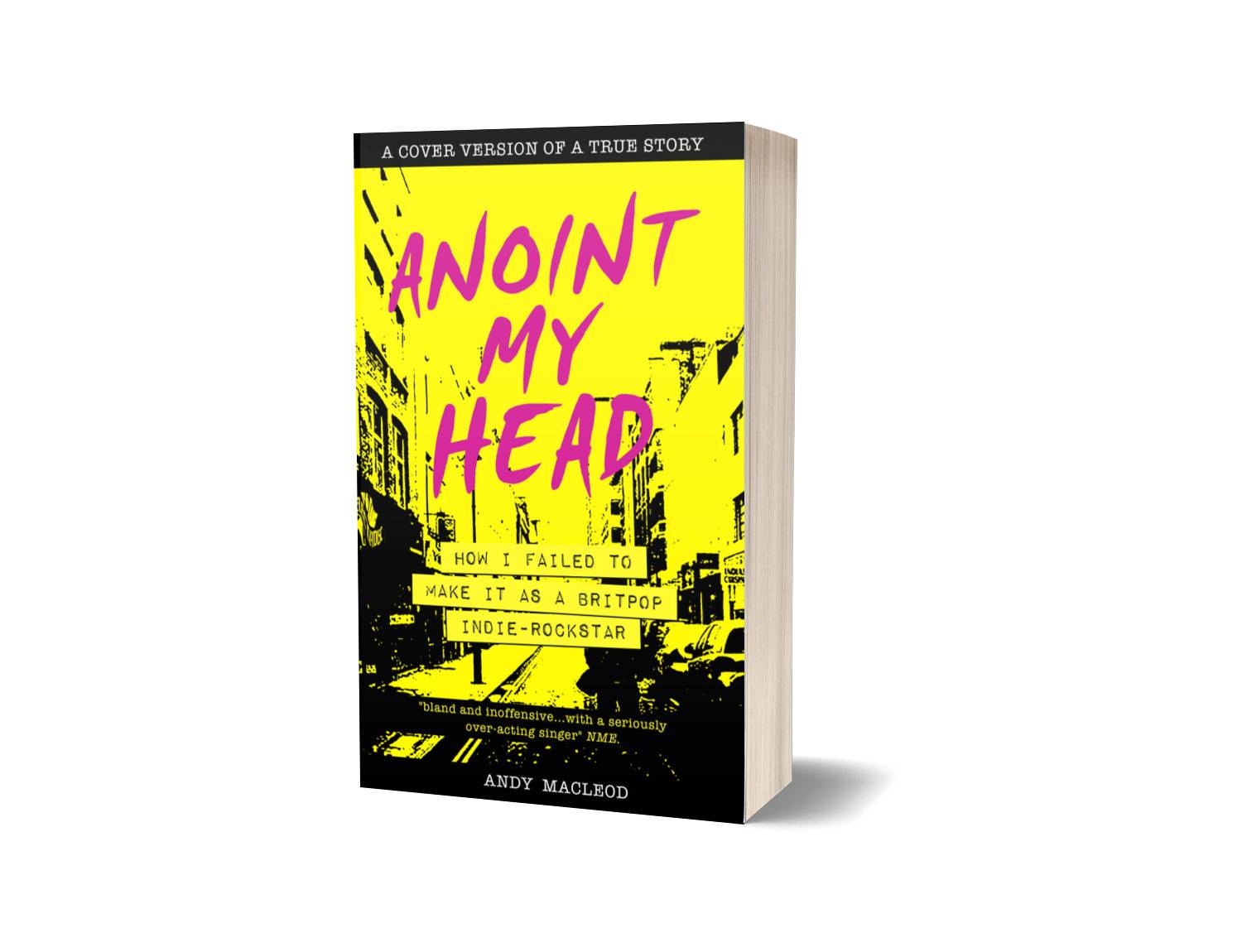 ​'Captures the time and the aspirations of a young band brilliantly. A great eye-opener into the absurd thought process of what it might take to headline Glastonbury!'
Steve Lamacq BBC 6 Music
​
'Super-evocative, proustian and a wonderful walk down memory lane'
Mark Bowen Wichita Recordings
​
'You'll read this book in one or two sittings – it's pure pleasure. All the fun of youthful dreams and the poignancy of disappointment – plus a remarkable A-list cameo. Magnificent.'
Phil Harrison Time Out / Guardian critic (& old work colleague at Selectadisc)
​
'Hilarious warts-and-all story of a Britpop band whose big ambitions did not meet their talents' Dan Carrier Camden New Journal
​
"A healthy measure of Nick Hornby with a dash of Adrian Mole had he joined an indie band. Just the tonic for these serious and uncertain days. Bottoms up!' Josh Levay Pointy Birds keyboardist/naysayer
​
'Very good read. I read the book over the weekend. Some really good memories I had forgotten about. Great days. I hope it goes on to sell millions!' Saul Galpen Nude Records
​
'This heartwarmingly tatty 'Withnail & I'-tinged glance back at a time before innocent indie dreams were stolen by digital streams is a must read for every lockdowned soul pining for just one more chance to see another bunch of over-ambitious sonic terrorists preening themselves in an under-ventilated gigging sweatpit.' Simon Williams fierce panda records
​
​
​
​
​
It is also currently available through Waterstones, Owl Bookshop in Kentish Town and Bold Cafe.
​
Anyway that's enough of my yakkin'. Until next month…
​
Andy
www.andymacleodauthor.com
​
** P.S: I tracked down…I contacted the journalist responsible for that NME review back in the day. You may read in the book i got quite hot-headed when I first read that he thought the Pointy Birds were "bland and inoffensive with a seriously over acting singer". But that is all water under the bridge now. Fast forward 30 years and I emailed the journalist to send him the paperback out of courtesy as he features in chapter 24. I could understand he was initially reluctant to give me his home address seeing as in the book I threatened to "defecate though his letterbox". But I assured him those days were definitely behind me. And anyway if he makes amends with a great book review then it doesnt matter that I know where he lives.
​
P.P.S: At least three people have now asked how they can listen to the Pointy Birds music. Unfortunately the songs are not currently available anywhere in the world. Some people have cruelly jibed that that is a good thing. However there are free downlaod links to some of the songs within the pages of the book. If you have not had the chance to grab a copy yet, here is a link to the track 'Benefit Office' for your listening pleasure. It really is a 3 minute indie-pop classic and should have been number one in every country in the world.
​
P.P.P.S: I can't decide whether to call this monthly email newsletter Anointy News which has a nice to ring to it but very Anoint My Head/Pointy Birds specific, or The Shed In My Head which can encompass other projects as they arise…plus it rhymes. But it's got nothing to do with sheds. Please let me know any strong feelings either way.
​
P.P.P.P.S: This was Anointy News/Shed in My Head Newsletter #2
​
In next month's Anointy News/Shed in My Head Newsletter #3
Anoint My Head audio book | Radio fandango launch | Pointy Birds Greatest Hits | part one of Anoint My Head stalker vlog | news on Harry's interest…
​
​
​
​